…off of the floor. Yes, Peg, this means you.
I posted.
Shocking, I know.
It's been a crazy time in my life since last January…my stepmother was diagnosed with cancer in May and was lost to it last week (a long story for another post
); I began my master's program at Vanderbilt in August, and work, work, work. I could write for a while.
But there are a few less depressing, more interesting things to talk about. Like this: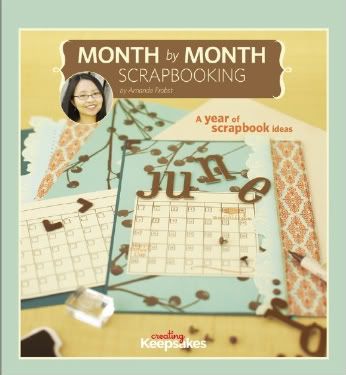 Yes, it is finally out! I was thrilled to work with Amanda, um, a YEAR ago creating projects for this, along w/ Summer Fullerton, Tiffany Tillman (go Hampton Roads girls!) and Laura Kurz. Trust me, this book is gonna knock your socks off.
Here's the 'Official Blurb'…
Month by Month Scrapbooking
by Amanda Probst
This is the year.
· The year you remember to take pictures of unique family traditions.
· The year you come up with a system for scrapping all your holiday photos.
· The year you devise inventive twists on the typical seasonal layouts and projects.
Let CK Dream Team member Amanda Probst and her crew of talented scrapbookers show you how to maximize the creative potential each month holds. You'll find tons of inspiration for all the traditional annual events, rites, and rituals, along with new perspectives on how to document your daily life throughout the months of the year.
Don't put it off any longer! This is the year you embrace your schedule-driven life and put your calendar to work for you. You need this book!
154 page book. $19.99. Available December 1, 2008.
If you like the idea, join Amanda's fun little group…(This is something fun and new!) Anyone can join this group and follow along with her and she offers challenges, giveaways, etc. there. Next week is our online promotion week for this book so be sure to check both the webpage and this group out!
http://www.creatingkeepsakes.com/component/option,com_groupjive/task,showgroup/groupid,741/Itemid,68/
And, of course, the link of where you can pre-order/purchase the book.
http://community.creatingkeepsakes.com/store/products/month_by_month_scrapbooking
ENJOY!!!!!!!!!!!!!!!!!