Yes, I am still alive. December was a pretty rough month. The first week I was sick w/ some sort of stomach virus, then managed to irritate my stomach even more with my pain meds - enough to land me in the ER for the night. Both kids had it, too, and thankfully, my mother-in-law was also visiting, so Chris had a little household help while I recovered.
The second week we were in Disney w/ my mom, brother, sis-in-law, and nephew. I haven't been there since I was 6, so that was loads of fun. Already planning the return trip. Of course, I was still in recovery mode from the yuck above, and Chris managed to get it while we were at Sea World, but it was still a memorable 4 days.
The second and third weeks I had the head/chest cold from Hell. Not fun. Period. And I was still weak from illness #1 of the month, so it wasn't a good combo.
Then came Christmas, which I was little prepared for. Didn't matter, Christmas Day still rocks for me. Hence, the picture above. Finally 90% recovered, it was a wonderful day. Dad and Bette surprised the kids again, Gabe got the model train he asked for, Emily got her 'purple baby' (aka Bitty Baby), that, as you can see above, has been attached to her hip, and Chris got the latest addition to his Star Wars Lego collection and a heated mattress pad that I'm totally in love with. Feels good to climb into a warm bed every night (although it doesn't matter tonight as, obviously, I cannot sleep - it's 3:30 am right now and I need to leave for work in 4 1/2 hours. Ick.) Me? I got a bazillion gift cards, an "It's a Wonderful Life" plaque that is just awesome, credit card holder, two books that I'd already read, and a few other little things. Oh, and if you look behind us in the picture, you can see some resemblance of some of the new wall color for the living room and foyer that was done just before Thanksgiving. I LOOOOOOOVE it. Must get a better picture up of that… We also gave each other a family gift - a Wii. Man, that thing is addicting. And a WORKOUT! At least we will have something to do while the writers are still on strike and all of our favorite shows are on rerun.
The best gift? That's easy to answer…in the middle of opening presents from Poppop and Mommom, after Santa's and Mommy/Daddy's gifts had been open, Gabe blurted out, "This is the best Christmas ever." My Christmas could have ended right there without me opening a single gift, and I would have been complete. Sigh. He said it again over breakfast. How delightful.
I hope all of you have had an absolutely wonderful holiday season, and an even better New Year to come!
And, since I've been so defunct lately, here's a few photos from the past month…
Memom's visit. I have a picture of me at her age doing the same thing to my aunt…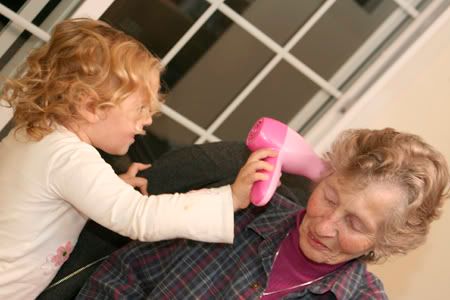 The 3 grandkids at Disney: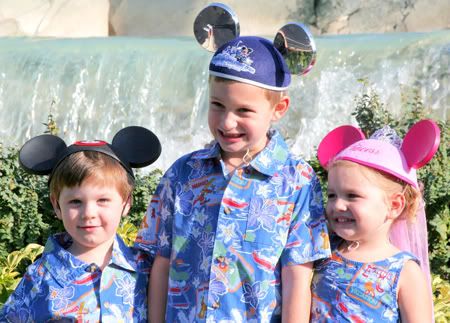 One of my cookie-baking helpers: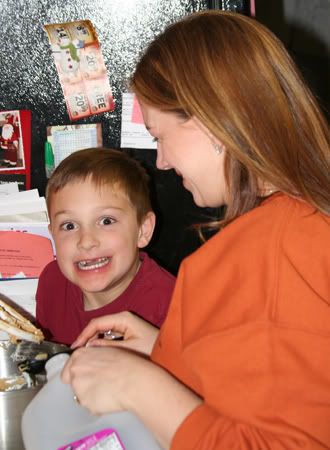 The Education Department of SNGH - getting lively for the camera at our Christmas party: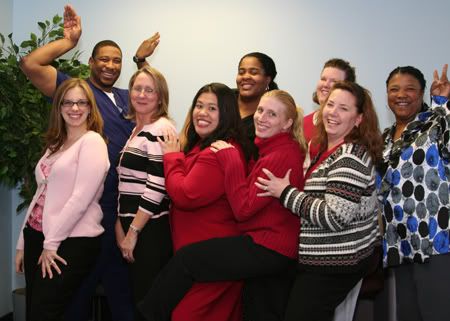 The kids on Christmas morning…the one day this year they didn't fight!!! WOOHOO!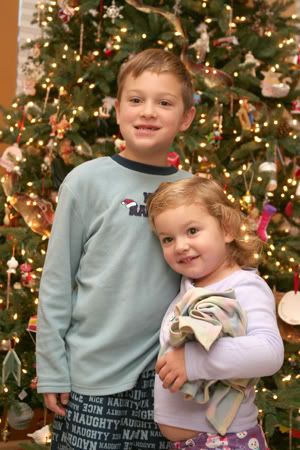 And how cute is this one??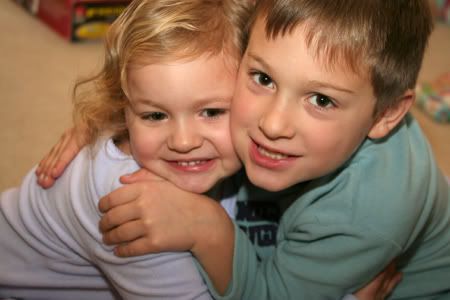 Em opening one of the bazillion Princess things she received…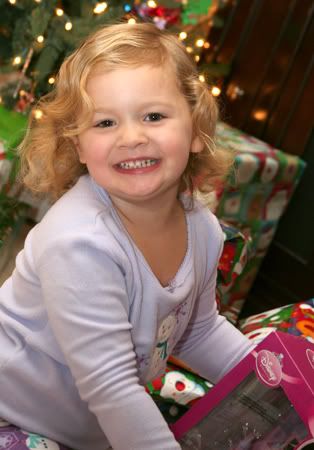 And loving it up w/ 'Purple Baby' (yes, that is what she named her.)

Christmas morning kisses - he deserves them.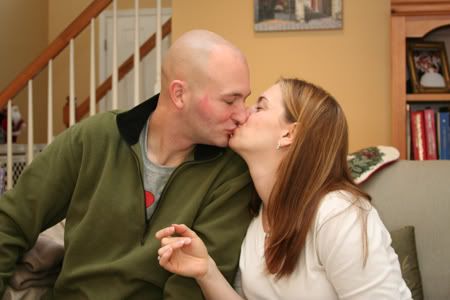 And finally, one of my little Christmas projects: