Wow. What a crazy two weeks. Getting used to working 5 days a week is not easy. Commuting 1 1/2-2 hours a day makes it worse. Yikes. I can't stand tunnels. I can't stand that it takes me 35 minutes to go the first 34 miles to work, and another 30 minutes to go the last 2 miles to get through that darn tunnel. Grrrr.
So, orientation classes are over, and tomorrow is my first full day in my office. Did I just say that? Holy cow, I have an OFFICE! So darn cool! I'm taking some pictures and such in tomorrow to do a little decorating, and we'll see where it goes from there. Hmmm, I guess I should actually take pictures of it or something huh? I even get my pager and order my business cards tomorrow! Is this seriously for real? I feel like I grew up all of a sudden!!!
On the Scrappy Front, I'm a wee bit on cloud 9 at the moment. Why??? Ohhh, maybe b/c I finally got my hands on the Hall of Fame Book!!!!!! I don't know what was cooler for me - seeing my face in it, or showing it to my mom. No one else can gush over you like your own Mother can.
I just happened to be lucky enough that she was staying in Williamsburg this week with her friend, so I got to go hand-deliver a copy of the book that I bought for her.
The only thing that bugged me about my layouts in there is that no one in the world will be able to figure out how to read the title of my 'The View from Different Angles' layout on pg 140. So here it is…hold the book at an angle and read from the bottom of the book up. It should look like this: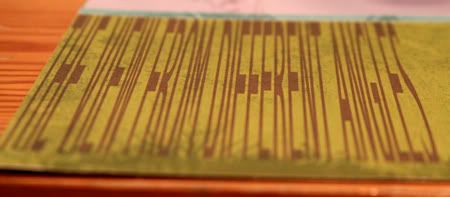 Do you get it? You have to hold it at an angle to read 'the view from different angles.' I put so much thought into that, and you can't even tell looking at the book! Oops! Sorry - it's just one of those few layouts in my lifetime that I'm really very proud of. I don't get pride in things very often, so thanks for letting me get that one out!!!
For more scrappiness, I've been decorating a few things w/ some Hambly-ness. Here they are:
1. a coffee mug insert (the pics in my old one were 2 years old - it was time for an update so I can always see my family at work!)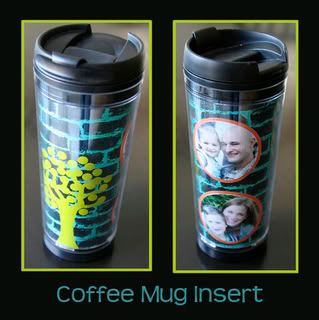 2. Magnetic board. (picked this one up at Ikea for all of 10 bucks, and spiced it up w/ a few Hambly rubs. It's going to hang in the laundry room for the kids so that all of the papers and such can get off of the fridge and onto their own personal space.
)
hehe - look closely and you might see my reflection taking a picture. Oops!
I guess that's about it for now. Check on the CK Message Board in the morning for the latest HOF Manufacturer Challenge!